Celebrating Mother's In Fair Trade - Shanthi from Prowess, India
Mother's In Fair Trade - Shanthi from Prowess, India
Fair Trade Stories & Case Studies
---------------------------------------------
FAIR TRADE ARTISAN STORIES

Bringing you stories from artisans across the globe!
 By Pradeep Krishnappa
Mother's day is a special day to celebrate Mothers around the world. Today Uplift Fair Trade celebrates Shanthi. A Mother, a leader and a womenpreneur who has fought odds in her society/community to empower women. 
Shanthi in her office, working during COVID-19 Lockdown.
Shanthi Mani was a homemaker when she lost her husband and was left with an infant to care for alone. At the age of 22, her future looked bleak and uncertain without any proper education or skills. It was then she was approached by an NGO that was providing vocational training and skill development. Shanthi took up this opportunity and got busy building her skills which helped her deal with her grief and loss. She worked in the same organization for 12 years and learned all the basics of sewing techniques, handicrafts, and sales. Later in the year 2007, she founded PROWESS SHG (Program for Women's Empowerment and Self Sustenance) an all women SHG/Organization with the help of a few colleagues. The Self Help Group consists of 16 members all-women group that have been working together from the first day one at prowess. 
"As a single mother it's tough to have work and home balance in the society but, balancing both gives me a purpose to my life and to all the women who I work with. We wake up every day to go out and make something that will eventually make people or customers happy and henceforth it gives joy for us to work at prowess. We as a group, work and help each other and support even at a personal level, this has created a strong bond over the years as one family. Since the time I have started Prowess, every day has been a new day and filled with excitement "Can't find a better job than this". Shanthi said!  
Shanthi told us "I handle the operation of the group. Over a period of time, I have got some training in computers and Accounts. This helps us to keep the systems and work processes in place. In the present day, my expertise is helping people get information so they know how to access and get support from the Govt for COVID19 relief and stay informed about COVID-19. During the pandemic it's been super intense but also rewarding, small businesses have been hit hard with indefinite lockdown for sure with disruption in the supply chain; we were left with no option but to succumb to this closure leaving our women jobless luckily, We found there was a high demand for masks in town and they were sold at exorbitant prices. So knowing this demand our woman was quick enough to adapt to the new program and design of mask making. By this time corona was spreading to neighboring villages and demand for masks kept increasing. We are lucky to find support from local Govt administration and NGOs that allowed us to work in these lockdown/difficult times. We are following the guidelines and social distancing norms where few of us come to the workshop while the others are working from home. Few NGOs and organizations came forward to help in the distribution of masks and we have already distributed over 3000 of 50000 masks so far."
Prowess Group making Masks for domestic consumption in their workshop in Kodaikanal, TamilNadu during the lockdown.
Prowess and the Fair Trade Principles.
Prowess was started mainly based on Fair Trade principles. The principles that are focused on are, supporting the women workers financially through trade (Gender equality), Fair Wages (Payment of a Fair Price), Supporting disadvantaged people ( Creating opportunities for economically disadvantaged producers),  providing a healthy work environment, (Ensuring good working conditions). We thrive to create a space for women with difficult financial and abusive family backgrounds and Women's Empowerment. We are providing constant support to our women in their capacity building (Providing capacity building). Last but not the least, we make sure we work mostly with natural fibre resources or products only, (Respect to Environment). So all principles of Fair Trade have not only helped us to ensure ethical & fair business but also made sure our workers have been treated well. 
As a woman based group, it's important for us to protect them and these principles keep us on guard. Most of the women are abused by society or by their drunk husbands all the time. Henceforth they all feel independent, empowered, and enjoy working at Prowess. Shanthi said!
Prowess group members before lockdown.
Shanthi's favorite Fair Trade product is Bunny House. She explained, A family of bunnies made and put together with sustainable and natural organic cotton material. Educating children about the environment and respecting them is the future of this world. Shanthi said. 
It's a dream job because I'm working with people who are passionate about the communities, I care about the most. Anytime, someone is asking me for the manager or the owner of Prowess? I tell them that all women working in Prowess are the managers and owners. We only share responsibility. Says Shanthi with Pride! 
Anna, founder of Uplift Fair Trade says whenever she met Shanthi her love and care for her community shines out of her in the way she speaks and way she acts.
Anna with Shanthi last year 
"Sometimes the strength of motherhood is greater than natural laws" Barbara Kingsolver - they hold everything together   
See more about Prowess here.
---
2 Responses
Leave a comment
Comments will be approved before showing up.
---
Also in Fair Trade Stories & Case Studies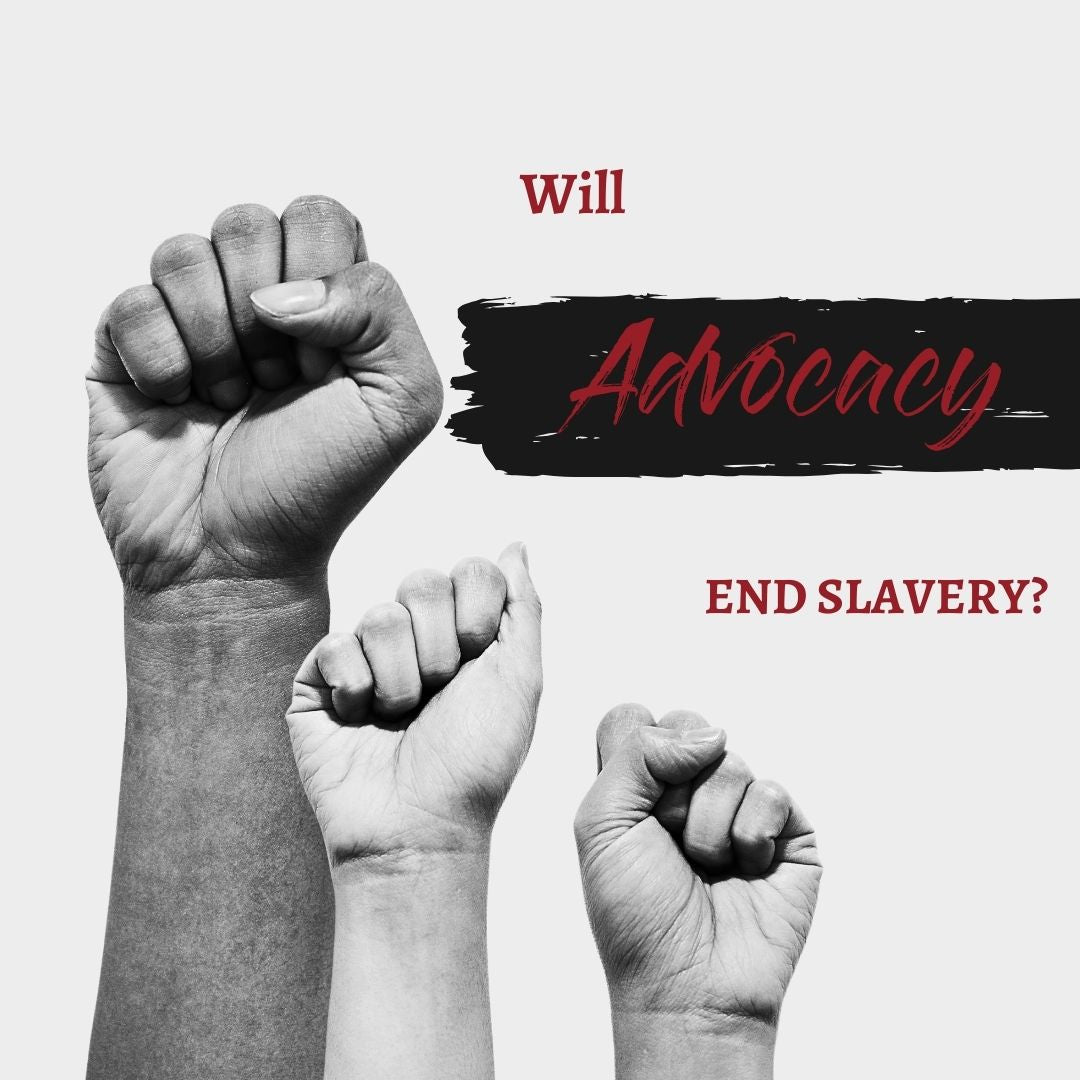 In the urgent battle against modern-day slavery, we must confront a crucial question: Is advocacy alone enough? Will advocacy end Modern day slavery?  Is lobbing government, running awareness campaigns about slavery, sending letters to companies about their supply chains all enough to see systematic change?
In the blog "Embracing Shalom: Beyond Peace, Toward Wholeness," the profound meaning of the Hebrew word "Shalom" is explored . Beyond its translation as "peace," Shalom represents complete wholeness and harmony, encompassing physical, emotional, and spiritual well-being. The blog looks at its historical roots, its significance across religions, and the personal challenges it poses. Embracing Shalom necessitates confronting biases, changing thinking patterns, and facing pain and difficult situations. Despite the discomfort, this transformative journey leads to self-discovery and compassion. The blog encourages readers to reflect on how they can bring Shalom to themselves and others, emphasizing that it's not just a destination but an ongoing, evolving process fostering inner harmony and peace in a chaotic world.
"In this heartfelt blog, I share my personal journey as a dyslexic individual and the transformative power of embracing neurodiversity. Through my experiences, I've shaped Uplift Fair Trade into a haven where everyone, regardless of ability, can shop comfortably. The blog delves into the inclusive ethos behind our unique shopping experience, emphasising empathy, understanding, and genuine care for all, from where we source our products to the end user.